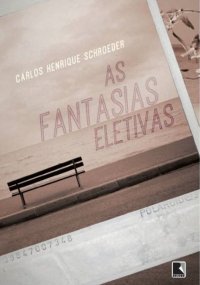 As fantasias eletivas (Elective Fantasies), published by Record in July, is svelte little thing of just over 110 pages. Carlos Henrique Schroeder is best known for his short stories, so perhaps it's no surprise he also keeps his novels short and sweet. I'm not a particularly fast reader, and even slower when reading in Portuguese, but I managed to finish this book in a single sitting, on an appropriately grey, "I think summer might really be over" kind of day. As fantasias eletivas is the story of Renê, a receptionist who works the night shift at a hotel in the Brazilian seaside town of Balneário Camboriú. It's the off-season, and the beaches and hotels, once teeming with tourists, are deserted. Renê (also known by his coworkers as 'Mister Alcohol', for both his clean freak tendencies and his drinking habits) has more or less lost everything good in his life. His marriage has fallen apart, he's not allowed contact with his young son (for reasons that remain unclear, but were apparently pretty grisly), his parents no longer want to speak to him. He arrived in the city in an effort to escape his past, and after a failed suicide attempt he leads a sad, solitary life, going through motions, working the hotel reception, procuring an array of products and services for guests, wiping down the front desk over and over, walking home, eating one of two meals he knows how to prepare. And repeat.
One evening he meets Copi, a transexual prostitute from Argentina working the boardwalk. After a rocky start, the two form an unlikely friendship in their shared exile by the sea. Copi is an amateur writer and Polaroid photographer, and Renê is the only person who will see her collection of photos and short, poetic texts that accompany them, reflections on literature, solitude, isolation, and the human experience. Brilliant poetry, this is not, but I believe that's sort of the point.
Renê and Copi both have a lot of secrets, and this book never attempts to reveal them all. The reader dips into their lives briefly, catching glimpses of their pasts, but there is no resolution in the end, and a lot of unanswered questions are left. For such a small book it carries a surprising amount of weight, and not just because in that short span of pages the author manages to include a book within a book, mixing prose, poetry and photography. There's something cinematic about the atmospheric backdrop of a beach resort in the off-season, itself becoming a character.
Though I hate to draw comparisons to Sergio Y. Vai à America, another recent Brazilian book with a transexual character, I found the two bookended one another nicely. Both contain their moments of sad beauty, but whereas Sergio Y. turned out to be a book of surprising hope in spite of all its tragic elements, As Fantasias Eletivas is an overwhelmingly sad book, despite its hopeful, sometimes comedic, elements.
More about the author:
Carlos Henrique Schroeder was born in rural Santa Catarina, in southern Brazil, in 1978. He is the author of As certezas e as palavras, which won the Brazilian National Library Foundation's Clarice Lispector award for short stories in 2010, and was a finalist for 2011 Portugal Telecom prize. He created Brazil's National Short Story Festival and coordinates the Formas Breves short story imprint for Ebook publisher e-galáxia. He is also the executive editor of Revista Pessoa, where he curates the short story section. To find out more about Carlos Henrique or to inquire about international rights, contact the MTS literary agency.